AUST CH Kimchatka Vanilla Ice
"Ice"

DOB: March 3, 2010
Sire: CH Kimchatka AmericanXpress, "Max"
Dam: CH Kimchatka Calamity Jane
Breeder/Owner: Elle Maitland, Kimchatka Samoyeds
At 8 months of age, Ice has won 2 Baby Puppy in Shows, 1 Minor Puppy in Show, 4 Best Puppy in Shows, and 3rd Best in Show (at 6.5 months old).
"Ice" earned her Champion title at less than 15 months old.
---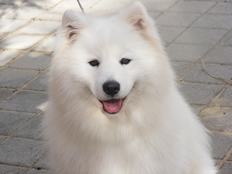 AUST CH Kimchatka Vanilla Coke
"Coco"

DOB: March 2, 2010
Sire: CH Kimchatka AmericanXpress, "Max"
Dam: CH Kimchatka Calamity Jane
Breeder: Elle Maitland, Kimchatka Samoyeds
Loved by: Peter and Rita Primrose